Information regarding sagwan plantation
Here we provide important information regarding sagwan plantation:-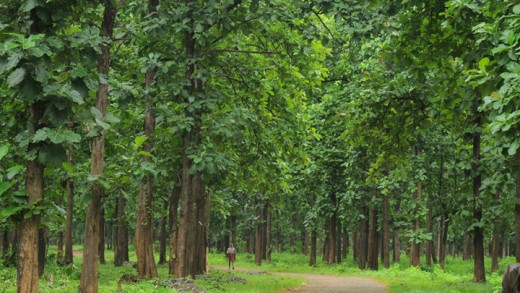 Soil treatment:- For the best growth of sagwan plantation the soil should be best of deep, well-drained, alluvial soils, derived from limestone,schist,gneiss,shale.
Required pH value:- We should have a range of pH value of the  soil in which we are going to plant our sagwan plants 6.5 to 7.5. in the case of acidic soil it should be <6.0.
Required manures:-  We should have to care about the sagwan plants with the suitable quantities of manures such as high calcium(C), phosphorus(P), potassium(K), nitrogen(N), and organic matters(OM).
Initial height:-  The initial height of the tinny plants to be cultivate is of 30 cm.
Distance between plants:- For the best harvesting the distance between the plants should be 1.8m X 1.8m to 4m X 4m. 
No. of plants per bigha:- For the best result of harvesting of sagwan plants should be about 1000 plants per acre having space 5ft to 6ft.
Rainfall:- The harvesting of sagwan plants gives better result in the case of rainfall of range 1200mm to 2500mm. 
Temperature required:- A maximum and minimum  range of temperature  39°C to 44°C and 13°C to 17°C gives a good result in sagwan plantation. 
Diseases/ treatment :-

Teak defolitor and skeletonises (Hyblaea puera and Eutectona machaeralis) cause extensive damage to young teake(sagwan) plantation. Root rot due to polygorous and pink disease fungus causes cankers and bark flaking. Fresh leaf extracts of calotropis procera, Datura metal and Azadirachta indica give better result in preventing for teak skeletonizer.